About Our Staff

Tokyo Store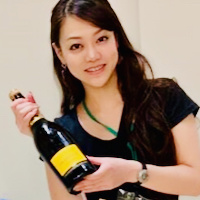 general manager MIYASHITA AI
WSET: Level 4 Diploma in Wines and Spirits
Japan Sommelier Association: Sommelier
Born in Osaka in a family that loves having drinks. She studied at a college in Chile, where she became familiar with wine. She was fascinated by wine when she casually started attending the WSET wine school in 2009. After working hard as a global marketer at a major manufacturer unrelated to wine during her 20's, she entered the world of wine business. She joined The Winery in 2017. Since then, she has served as the Tokyo Store Manager and General Manager of the Japanese market. She is also a wine magazine taster, wine competition judge, and wine seminar lecturer.


staff YAGI YUKI
Japan Sommelier Association: Sommelier
She was born in Shizuoka. While working in a service industry, she admired the beautiful gold of a grape bunch, the symbol of Japan Sommeliers Association, worn by her senior, which led her to become a certified sommelier. As she entered the world of wine, she began to discover the world is even deeper and wider than she'd imagined. Currently she is challenging a WSET certification to aquire a knowledge of academic aspects of wine.


staff KANEKO SAKURA
WSET: Level 2 in Wines and Spirits
Born in Kanagawa. I worked for a range of businesses from a foreign manufacturer to IT companies. While struggling to determine my future career path, I happened to stop by The Winery Tokyo and was deeply impressed by store manager Miyashita's impeccable customer service. Next thing I noticed was myself working in The Winery's uniform. I am currently deepening my wine knowledge at a WSET school to shoot for a wine certification.



Kyoto Store
senior manager TAKEDA KAORI
WSET: Level 4 Diploma in Wines and Spirits
WSET: Level 3 in Sake
Japan Sommelier Association: Wine Expert
Born in the Hyogo prefecture. Her professional experiences include travel, airline, apparel and consumer products industries. She found the joy of wines during her trip in New Zealand and Australia where wines are a part of their every day life. She then studied about wines, got wine certifications and jumped into the wine business in 2009. After working at the wine section of a department store and at a wine import company, she became a freelance wine specialist. The Winery Kyoto is her first project.


Assistant Manager SHIGEEDA SAE

Japan Sommelier Association: Wine Expert
WSET® Level 3 Award in Wines
Born in the Yamaguchi prefecture. She first became to know about wines when her friends took her to winery visits in New Zealand during the college years. She worked for a wine company right after graduation. She then left the company to worked in a different industry, but soon realized that she really loved working with wines and came back to the industry as a sales associate at a wine store until she was hired to be the assistant manager of The Winery Kyoto.