Discounts, Shipping, Returns, Gift Wrapping
DISCOUNTS
The Web Points
Get 1 point for every ¥100 spent. Each point is worth ¥1. Points can be used for your future online purchases.
VIP Rewards Program
Customers who purchased ¥120,000 or more during the 12 months prior to the anniversary date, August 17th, will be automatically upgraded to VIP members on the anniversary day. The members will enjoy a 10% discount on any purchase for the next 12 month.*
SHIPPING
Free shipping for orders ¥25,000 or more. For orders below the amount please see the chart below.
Free shipping for orders ¥25,000 or more. Prices are shown pretax.
| | | |
| --- | --- | --- |
| Prefecture | 1-2 bottles | 3-12 bottles |
| Kanto Area | ¥972 | ¥1,188 |
| Honshu & Shikoku | ¥1,296 | ¥1,512 |
| Hokkaido, Kyushu & Okinawa | ¥1,512 | ¥1,836 |
*¥712 extra for refrigerated truck
2-hour express service is available for deliveries to Minato-ku addresses. Please call the store for availability.
Usually we ship out packages by the end of the next day via the Yu-Pack postal service.
We recommend to choose via refrigerated Yu-Pack to minimize temperature fractures during shipment, expecially during the warm seasons. Please note that we are not responsible for wine damages should you chose regular Yu-Pack for your delivery method.
GIFT WRAPPING
We are happy to gift wrap your wines in gift boxes. Just select gift boxes of your choice and contact us with an instruction. Specify ribbon colors and tissue paper colors. If no instruction is given, we will ship the gift boxes to you as is.

Choose from following color choices.
Tissues: Black(standard), red, black,white stripe and pink
Ribbons: Black(standard), red and Pink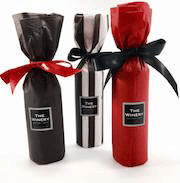 Click here to see our gift boxes.
RETURNS